The " Mona Lisa" smile and her Mysteries.
A genius immortalized her. A king paid a fortune for her. An emperor coveted her. She was the star of the tabloid story- 'they thought this woman was the ultimate femme fatale'.
Over 10 million people each year throng to Louvre to view her portrait. Everyone recognizes her smile. Undoubtedly, the most famous painting in the world and the most artistic subject of all time.
Who was this ordinary woman who rose to such extra ordinary fame? For a start, she was a real person. We can admonish two claims that it was a self portrait of Leonardo in drag or an idealised portrait of Leonardo's dead mother. She was born in Florence in 1479 as Lisa Gheradini. Hailed from a noble family, married off at the age of 15 to a wealthy cloth merchant Francesco del Giocondo who was twice her age. She was his third wife and mother to 6 children. Mona in Italian is a polite form of address similar to Madam or Lady in English. It was commonly spelled in modern Italian as Monna Lisa, later shortened to 'Mona Lisa'. She is also called La Giocondo in Italian and La Joconde in French. She died in 1542.
Why did the most renowned master choose her as his model? Since her husband was a great patron of art, he commissioned this portrait to celebrate his daughter's birth and the purchase of his family home. Leonardo accepted this assignment immediately, as he was penniless then. He began work in 1503, delayed the completion when he started receiving payment for starting " The Battle of Anghiari"- another master piece painting. The painting travelled with him throughout his life and completed many years later in France, in one estimation by 1516.
Why does her smile enchant us still? Her smile has repeatedly been a subject of many, greatly varying and countless interpretations. Many researchers have tried to explain why this smile is seen so differently by people. The explanations range from scientific theories about human vision to curious supposition about her identity and feelings. That is precisely what makes it ' special & enchanting'.
Leonardo introduced a revolutionary new technique- "Sfumato" which is blending of tones and colours without distinct lines or borders, thus creating hazy forms.The size of the painting is just 20.87 inches wide and 30.32 inches high. He painted this master piece on wood panel using oil paints.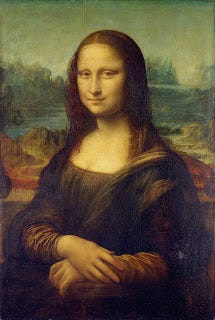 How did she land up in Louvre? Leonardo went to France at the King's invitation. Upon his death in 1519, his assistant Salai inherited the work and sold it to King Francis I for 4000 gold coins. It was kept at the Palace of Fontainbleu where it remained until King Louis XIV moved the painting to Palace of Versailles. Napolean Bonaparte took the painting for his personal use, installed it in his bed room. After a few years, following the French revolution it was moved to Louvre which became a museum in 1804.
The theft that made her world famous? On August 21st 1911, the painting was stolen. Authorities realised the theft only after 24 hours when the French painter Louis Beroud informed them that it was strangely missing. The police were baffled and printed off 6500 copies for distribution in the streets of Paris. She was instantly shot to global stardom as this daring heist was reported in the media world wide. Louvre was closed for a week. During this period there was a tremendous national grief and thousands of visitors came to view the empty spot on the wall.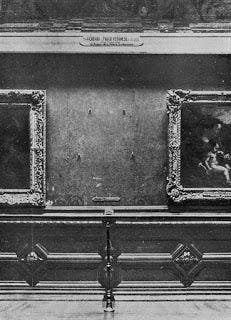 Yes Pablo Picasso was one of the suspects. Despite extensive investigation, huge reward for any information leading to the painting's safe return, there were no solid leads and the trail was completely cold. Based on an illogical tip off, the police summoned Picasso for questioning and even arrested the poet and playwright Guillaume Apollinaire as he was the prime suspect. At one point, American tycoon and art lover J. P Morgan was suspected of commissioning the theft. With the escalating tensions between France and Germany, the people thought Kaiser was behind it.
Her thief became a national hero. For 28 months there was no break through. The real thief was Italian born Vncenzo Peruggia who was an employee with the Louvre. He hid himself in a closet the previous night, walked out with the painting under his coat in broad day light. He kept this art in his apartment. Police on questioning him, accepted his alibi that he had been working at a different location on the day of the theft. He was arrested in Florence when he tried to sell the painting for US $ 100,000 to a gallery through an art dealer who alerted the police. The painting was exhibited in gallery for a few weeks and for 2 months toured Italy and viewed by millions of people until it was returned to Louvre.
During the trail he claimed that his motivation for stealing the painting was patriotic. That he had fallen in love with this beauty and could not rest until it was restored to its native land. He rose at once to hero status and received love letters, cakes and bottles of wine in jail. The sympathetic jury sentenced him to just 7 months. On his release he served the Italian army during World War I, returned to France and continued to work as a carpenter and painter.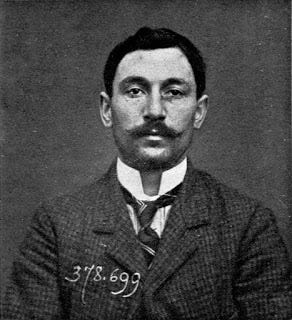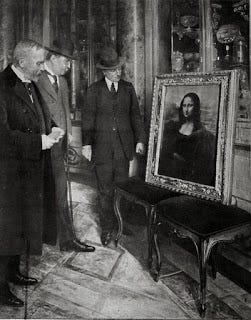 For many years the Italian government has tried through diplomatic channels to have the master piece returned to Italy. Thus far unsuccessful, the French government's official position is that the painting is "too fragile to be moved".